10 BASE CHARACTERS FOR SALE | 777 VARIATIONS OF EACH
ONE CHARACTER MINT EVERY FRIDAY | SALE BEGINS FIRST QUARTER 2024
10,101 TOTAL NFTS | 7,770 NFTS | 2,331 BONUS NFTS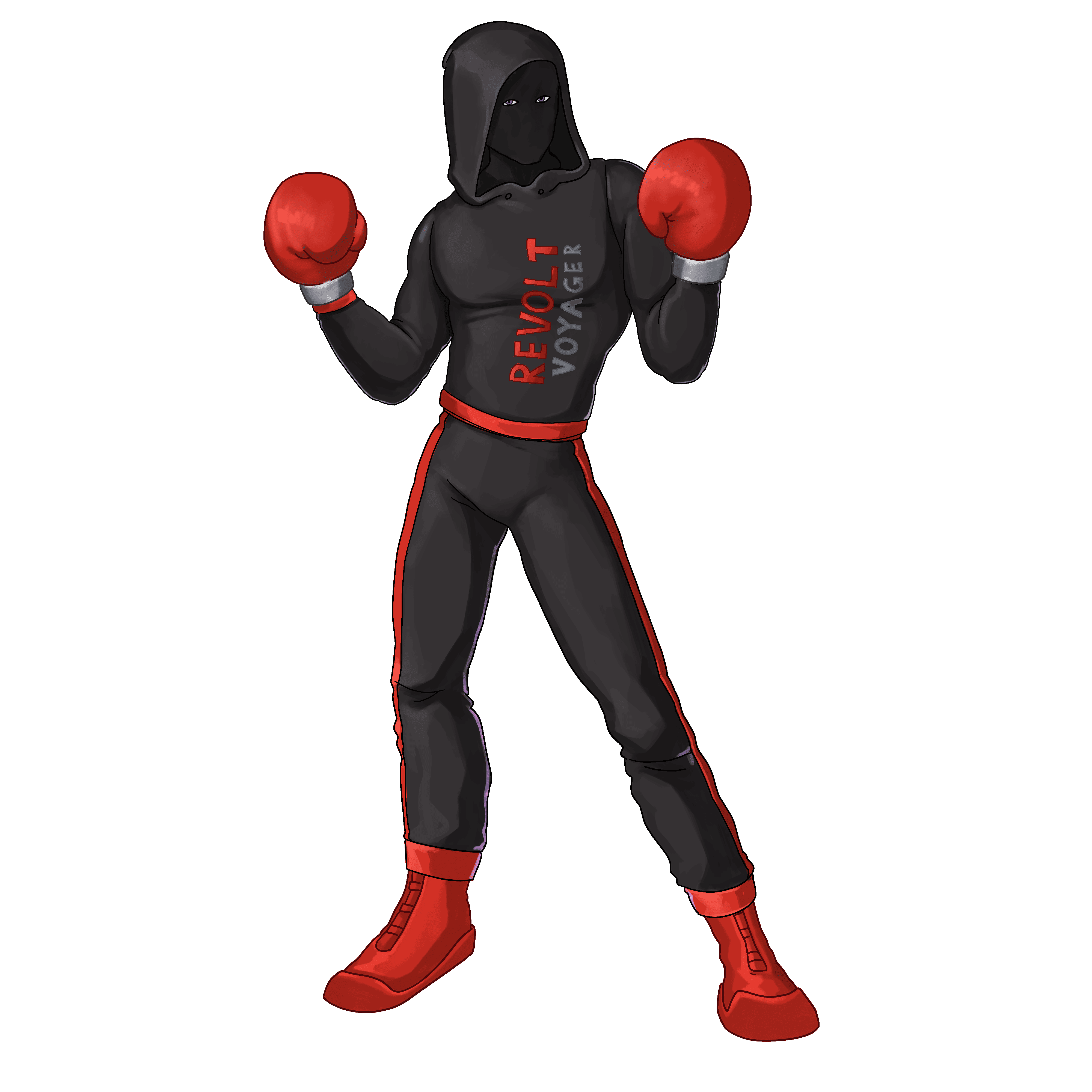 The Most Exciting Blockchain Boxing NFT & VG Franchise
The Revolt Voyager™ NFT Collection will be released on the Solana blockchain and is comprised of 13 base boxing characters, each with 777 uniquely generated variations, for a total of 10,101 NFTs. There are both good characters (Rooks of Revolution™) who know how to play just as dirty as the bad characters (Crooks of Crypto™). The collection was created and inspired by a lack of ethics, poor decision-making and greed within the crypto sector.
Only ten of the thirteen base boxing characters will be offered for purchase. One base boxing character will be launched per week over a period of ten weeks. The first issued boxer will come with a bonus – a second NFT base boxing character that will appear in each purchaser's Solana Address within 48 hours after the completed sale. The remaining nine boxing characters will be released in an orderly fashion on the same day of the week for nine consecutive weeks.
Once the remaining nine boxing characters are minted, a lottery will be drawn. For each NFT purchased, anyone who originally purchased a Rooks of Revolution Boxer will have a chance of winning the protagonist boxer of Revolt Voyager, Forever Nakamoto™. He is the prodigy and up-and-coming rising young star who seeks to avenge the crypto HODLers and enthusiasts who have been wronged by the greedy villains of the industry.
The final boxer (#13), Teslar Prime, is the Ultimate Champion of Revolt Voyager. While he has helped groom the young prodigy after witnessing him taking a brutal beating in front of the Charging Bull on Wall Street, he also realizes the young prodigy's rise to greatness could mean losing the championship belt himself someday. His trust and honor cannot be purchased or sold, and he would rather lose his belt to man with integrity over a man who would abuse the power of his Immortalweight belt. And therefore, to get an NFT is his image, he must be beaten fair and square by the most skilled, driven and competitive forces out there. Each NFT purchased will come with a ticket to fight against the champion in "Minters Mode." Each ticket will come with one free opportunity per day to beat the champion. The first 500 tickets to beat the Champion will earn "The Ultimate Championship NFT."
The remaining NFTs (277) can only be won in Pay-Play-WIN! Mode. This mode is open to anyone with an interest in earning "The Ultimate Championship NFT." Each attempt to beat the Champion will cost the equivalent of 10 US Dollars.
Revolt Voyager Whitelist
There will be a small whitelist of only 250 participants. One day before each minting period, 100 NFTs will be made available via pre-sale for whitelist participants. Each whitelist participant will only be able to purchase one NFT for each pre-sale minting period and will be able to continue to purchase one additional NFT per pre-sale minting period. To get on the Revolt Voyager Whitelist, a user must be an active participant in one or more of Revolt Voyager's social media channels which include Discord and Twitter.
NFT Holder Rights
The ownership of any NFT in this collection grants certain irrevocable rights and privileges, including unlimited free lifetime play to the online and app versions of Revolt Voyager in "Standard Game Mode" by simply by connecting an NFT to the game.
NFT holders shall own limited use of the IP of the NFT purchased. They may utilize the image of their NFT for any personal use but may not sell the use of (i.e., license and/or collect royalties) such images since that would dilute the value of the brand and would disproportionately affect other NFT Holders, various stakeholders and partners with a vested interest.
There are core differences in gaming rights and privileges between original purchasers of NFTs and NFT holders that must be distinguished, especially when such parties are no longer one and the same due to a sale/transfer of a Revolt Voyager NFT.
Only original purchasers have access to "Minters Mode," and may win additional NFTs in the collection during the NFT launch period. In "Minters Mode," original purchasers can win additional cash prizes, NFTs, merchandise, and partake in promotional activities in the game through special activation codes sent to their email inbox and/or phone.
NFT holders do not have a special mode but can access the game by connecting their NFT through their Solana Wallet, which will grant them access to the game without paying the "Standard Game Mode" monthly fees. NFT holders, depending on the Revolt Voyager Boxing Character held, will also have the ability to fight as their represented character in "Standard Game Mode," a feature that is not available to Standard Game users. However, this represented character cannot be used in competitions against other players.
"Standard Game Mode" fees are planned at $9.95 per month, or $99.95 annually, and will grant users the ability to play the game, compete against other players, and potentially win various weekly and monthly prizes from an allocated pool of crypto and crypto-related merchandise. These subscription fees may be paid manually using Solana, REVOLTR (for a 10% discount) or can be paid for via credit/debit card or PayPal for anyone who prefers automatic recurring billing. All NFTs, upgrades, Pay-Play-WIN! and Fight for a Cause entry fees must be paid in REVOLTR, a Solana-based token that can be purchased directly in the game with Solana. Likewise, any redeemable prizes that are blockchain-based will require the end-user to provide a Solana wallet address to receive those awards.